Alien Profile Creator is based on Atomik Alienz (for Fuzion) rules to create an Alien species.
Mark Chase has developed a unique and interesting method of describing alien species for role playing games.
Visit http://www.meta-earth.com/fuzion/atomik.html for more information on Atomik Alienz and other inspiring Fuzion based documents.
The product takes his work to the logical next level by automating the calculations and allowing the future sharing of this information with other game masters.
Key Benefits
Create Alien Species using standard characteristics
Save Alien Species
Export Alien Species
Uses MDB, XML and webXML for recordsets
Requirements
This Installation and may required downloading ADO 2.5 from Microsoft http://www.microsoft.com/data
Current version requires internet connection to work with full webXML files
AlienProfile XML Data files are available for download see APCGData
Please note: this version searches for its database, and if it can't find it, it looks in the Application Folder for the Supporting Cast Data XML files if it doesn't find the XML Data files, it will attempt to look for the webXML files on our Gamma World website.
Download the Demo XML Data files and unzip them into the Application Folder. The application folder is the same folder that you installed Alien Profile Creator into. If you use the default then, unzip the XML data files into a folder like c:\program files\alien profile creator.
Pricing
Description
Download Zip
Shareware Price
Size
Game Master Helper -
Alien Profile Creator
Microsoft Installer
MSI Install
Free
2736 KB
alternate download zip format v 1.x
GMHAPC
Free
2843 KB
Alien Profile Creator Source
Not Available
$500
Version Update
Demo Data Files
APCDATA
22 KB
Full Data Files
Not Available
$49
Updated Executable Only in zip format
UpdatedEXE.zip
71 KB
Latest completed and uploaded features:
XML Data File Usage
XML Export of Alien Profile
Future Versions planned to include:
Add Psionics, Mutations, Magic, and CyberGear
Add ability to connect to Entity table and Alien table
Ability to Generate Alien Profiles
XSLT alien profile sheet layout
XSLT multiple alien profile layouts
Standardized hierarchical XML alien layout
Ability to save and retrieve other XML alien profiles for easy transportation without re-keying data.
Ability to construct Alternity playable Alien Species which will construct Alien Characteristics such as

Ability Score Ranges, Natural Defense Ratings, Natural Attack Types
Durability, Action Check Information, and Movement
Description of stereo-typical species
Screen Shots: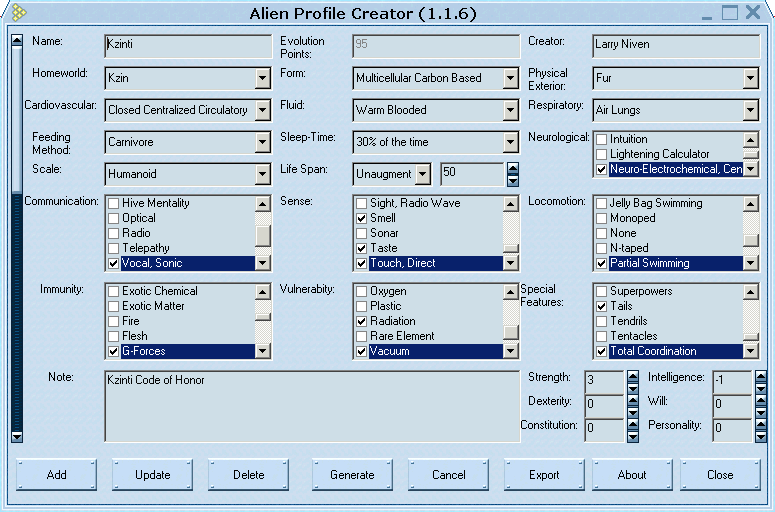 Sample HTML generation from Alien Profile Creator Globulon
visitors